| | |
| --- | --- |
| Finland - Membranes, Modules and Systems for the membrane filtration | advertising |
---


---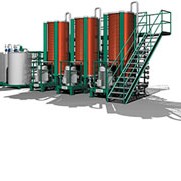 Metso Paper, Inc. - www.metsopaper.com - Corporate Head Office, PO Box 587, 40101 Jyvaskyla, Finland
Tel. +358 20 482 150, Fax +358 20 482 151
Products:
OptiFilter CR ultrafiltration combined with nanofiltration and reverse osmosis is successfully used for all types of mills for reducing water consumption. Our experience from the pulp and paper industry has shown CR-ultrafiltration to be very suitable for white water filtration and for recovery of coating color.
The OptiFilter CR (Cross Rotational plate and frame module) is an advanced device based on fine physical separation on a high molecular level. Protected OptiFilter CR's Cross Rotational technique makes it superior for treating water fractions in the pulp and paper industry.
company profile:
Metso Paper is the leading supplier of processes, equipment and services for the pulp and paper industry. The customers include pulp, paper, board and tissue producers worldwide. The company develops and delivers complete production lines, rebuilds and modernizations, as well as know-how, and expert and maintenance services.
www.membrane-guide.com
Keywords