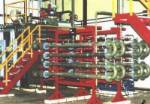 FioTec (Thailand) Co., Ltd. - www.fiotec.com - No. 320 Ekamai Soi 18, Sukhumvit 63, Bangkok 10110, Thailand
Marcel Fiocchi, Managing Director, Tel. +66-2-381 1060, (02) 714 2580, Fax +66-2-381 1061
Products:
Membrane technology for industrial wastewaters, recovery of chemicals for various industries, separation of oil-water emulsions, desalination of sea and well water, concentration of fruit and vegetable juice...
company profile:
We are a team of Swiss and Thai professionals working worldwide in the fields of process engineering.
We place high emphasis on quality, reliability and cost effectiveness and of course after-sales-service.