FilaTech Filament Technology u. Spinnanlagen GmbH - www.filatech.de - Dornierstr. 6, 53424 Remagen, Germany
email: , Tel. +49 (2642) 9940-0, Fax +49 (2642) 9940-118
products:
FilaTech has developed multi-nozzle, state-of-the-art synthetic HFM (hollow fiber) spinning lines. FilaTech is the only company worldwide to offer independent, turnkey production technology to the medical industry. This technology includes spinning lines of up to 1.500 nozzles per line for "dry" HFM production and the necessary water and solvent recovery technology for treatment of up to more than 7 metric tons of wash liquid per hour.
company profile:
FilaTech specializes in the delivery of custom-made machines and plants, such as pilot spinning lines and cleaning equipment for filters and spin packs, to the synthetic fiber and polymer industry.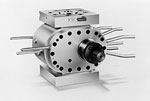 MAHR METERING SYSTEMS GMBH - www.mahr.com - Carl-Mahr-Str. 1, 37073 Göttingen, Germany
Ottmar VALLINGA, Email, Tel. +49 (551) 7073-258, Fax +49 (551) 7073-417
products:
Gear-pumps and systems for the manufacturing of all kinds of membranes, especialy hollow fibres and films.
Feinpruef Melt Spinning-, Extrusion-, Vacuum Discharge- & Pressure Increase Pumps.
Metering-, Spin Finish Metering-, Dosing-, Blending & Mixing Systems, Test Stands as well as Drive and Control Systems.
Repair Service, Engineering and Consulting.
The complete line of high precision gear metering pumps has been manufactured under the brand name Feinpruef.
company profile:
Mahr Metering Systems GmbH, formerly known as Mahr GmbH- Feinpruef Spinning Pump Division, is a member of the Mahr group headquartered in Goettingen, Germany. Mahr, an ISO 9001 certified company, was founded in 1861.
The Mahr group is a global leader with 1400 employees of dimensional metrology equipment, high precision rotary stroke bearings and ultra precision gear metering pumps for a wide variety of polymer processing and other metering applications.
Mahr Metering Systems Corporation in Charlotte, North Carolina, USA is a wholly owned subsidiary of Mahr Metering Systems GmbH, serving the NAFTA market since 1970.
www.membrane-guide.com
keywords