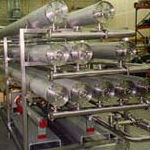 Diva Envitec (India) - www.divaenvitec.com - 4/31, Road No.2, Siddharth Nagar Goregaon (W) Mumbai - 400 104, India
Lalit Vashita, Email: Tel. +91 98333 93837 (mobile)
Products:
Membrane filter systems - cross flow or tangential flow
RO, NF, UF, MF systems are being used in the industry for varied applications - starting from bio-pharmaceuticals, chemicals, dyes and F&B industry.
Membranes of Cellulose, Polyamides, PP and/or Ceramic for more toxic, rugged and tough applications are designed and supplied by Diva Envitec. A range of media is available to handle applications in the Pharmaceutical, Biotech, Chemical, F&B, Wines and Breweries, Dyes, colours and Dye Intermediates etc.
company profile:
A professional group of engineers with rich and varied experience in design, development and implementation of viable solutions ensure your filtration requirements are fulfilled. Over the years, Diva Envitec has gained enormous expertise in providing innovative solutions in filtration and separation technologies.