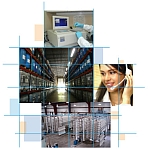 American Water Chemicals - www.membranechemicals.com
- 1802 Corporate Center Lane, Plant City, FL 33563, USA

Mohannad Malki, email, Tel. +1 813-246-5448

American Water Chemicals, Inc. (AWC) is an international supplier of water treatment chemicals. We provide leading technology in RO, NF, UF and MF membrane-related water treatment chemicals and analytical services for the desalination and membrane market. For over twenty years we have provided our clients worldwide with a high quality of service and with the support necessary to reduce their operating costs, eliminate hazardous acid-dosing, and to reduce the frequency of their membrane cleanings. .
Products: Antiscalants, Cleaning chemicals, Flocculants, Biocides, Corrosion Inhibitors

We develop and manufacture membrane chemicals, antiscalants, cleaning chemicals, flocculants and biocides, as well as corrosion inhibitors for RO permeate.

Our services in the lab include membrane autopsies and chemical analyses for the identification of the issues at hand and product selection.
We run membrane cleaning studies, wet tests, and also provide membrane pilot rentals.