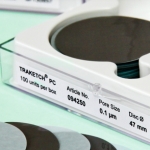 SABEU GmbH & Co. KG - www.sabeu.com
- Hirschberger Str. 1, 37154 Northeim, Germany

email, Tel.

Produkte: microporous TRAKETCH® membranes

SABEU develops and manufactures its own microporous membranes under the TRAKETCH® brand and customizes membranes for different filtration solutions.
The products are used for filtration, sealing and degassing of chemicals as well as the sterile venting in life sciences and medical technology applications, e.g. solutions for mobile diagnostics, monitoring and therapy systems.
The projects are realized in-house, from the product development, to the automation process, production, surface finishing, lamination and assembly.